One tiny pointer makes a huge difference. At the bottom of your Duvibuddy Fitted Sheet and Duvibuddy Inner, you'll see directional labels.
These arrow icons show you at a glance which way is down and which is up so you can place your Duvibuddy Extra Depth Fitted Sheet perfectly first time, every time, and also zip your duvet inner into its cover in a jiffy.
No more guessing and stressing. A great idea, long overdue.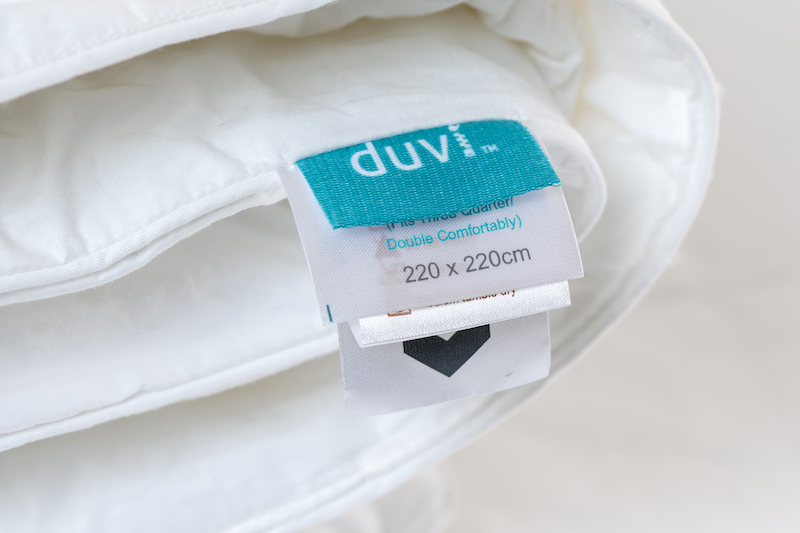 'Cause one size doesn't fit all
All your Duvibuddy products' size labels are situated at the bottom for ease of reference, whether on your bed or folded in your cupboard.
No more scrumming with your linen cupboard. You can finally skip the 40 dress-rehearsals it took just to match the right inners with the right covers.
Our labels reduce time, stress, and confusion because you shouldn't have to look and feel like a hot mess to get your bed to look like a million bucks.
You like your pillow to be just so. We get it. And once you've customised your Duvibuddy Pillow to be exactly as fat or thin as you love it (thanks to your extra bag of Duvibuddy Microfibre Filling) you'll probably want to put your name on it.
But wait.
It's time to chuck out the permanent marker and cancel the embroidery lady because your unique colour coded Zip ID now makes your pillow super easy to ID.
No more fighting and fussing to get your duvet inner into its cover.
Step 1) place the bottom layer of the cover on your bed, (leaving the top layer casually folded near the headboard at first. Step 2) place your duvet inner on top of that bottom layer. Step 3) now pull the top layer of the cover over your inner, and zip it up.
Voila! As easy as falling into your bed.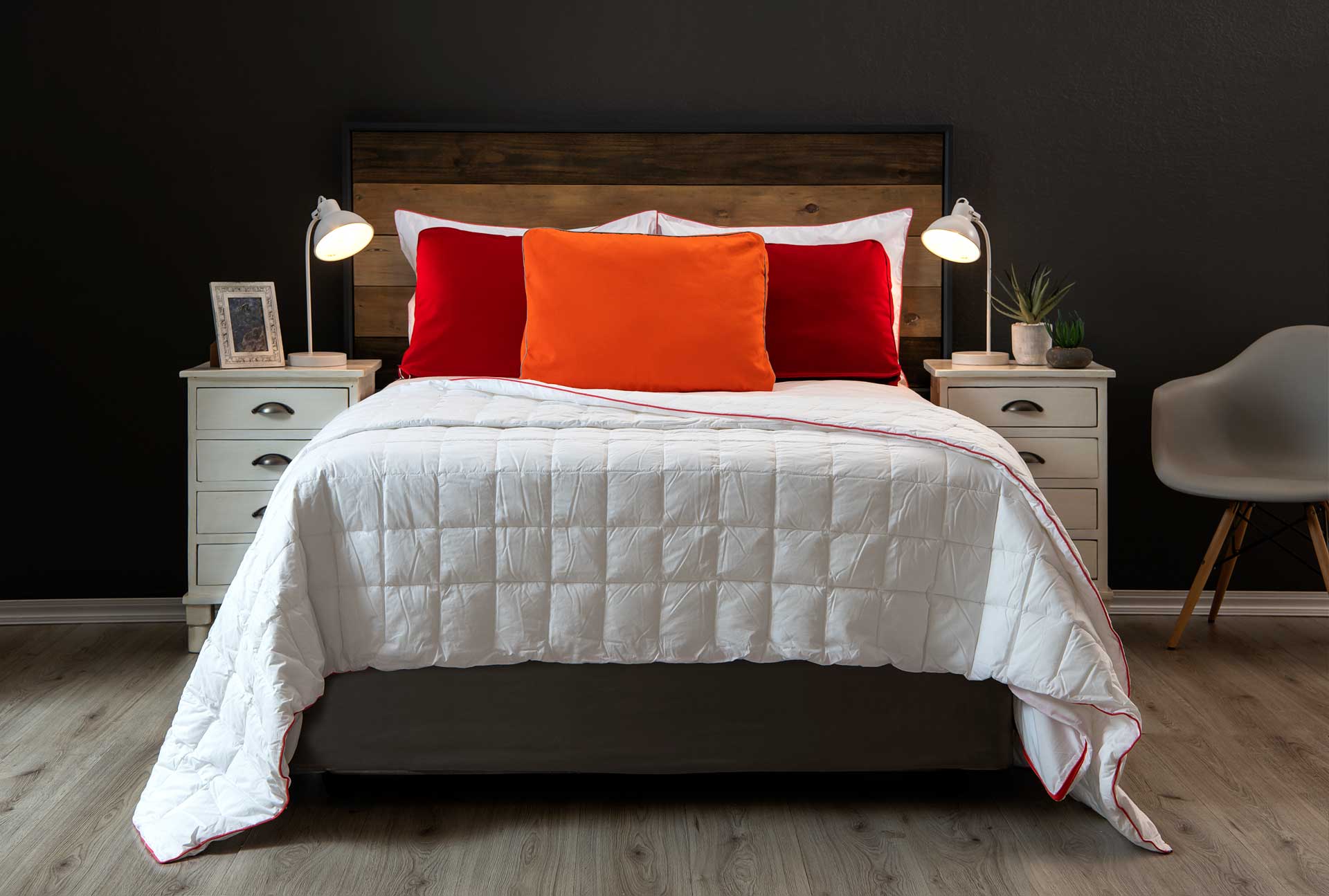 Attractive, versatile, and highly practical the Duvibuddy range is the perfect bedding solution for the hospitality industry.
Whether you're an Airbnb soon-to-be super host, proud guest house owner, or forward-thinking hotel manager, you'll not only love the professional look of a Duvibuddy made bed, you'll certainly appreciate the time and effort it saves your trusty housekeeping team when it comes to turning your rooms around in minimum time and to maximum effect.
As slim as a slim phone, and every bit as smart, you'll love your divine Duvibuddy Ultra-Light Summer Duvet inner which provides cool coverage on those very hot Summer nights, and on cooler Summer evenings you can simply pair with your Duvibuddy Duvi for light-weight warmth and snugness
You'll love your divine Duvibuddy Ultra-Light Summer Duvet, which in winter you can simply pair with your Duvibuddy Duvi for light-weight warmth and snugness. And for those seriously frrr… eezing evenings you can always clip together the two parts of your Duvibuddy All Seasons Duvet to keep you super toasty.
Better yet, all Duvibuddy duvets are extra width, so you'll never have to fight for cover, and neither will your bed. No longer will your fitted sheet stick out like a sore thumb, or bad underwear. The generous width of your Duvibuddy Duvet means your fitted sheets are always completely covered, so your bed looks aesthetically pleasing from every angle.
Used as a stand-alone your Duvibuddy Duvi with its small squares adds loads of visual and textural interest to beautify your bed, but also doubles up as an extra layer for your duvet. Not just a very pretty face, my dear
For the first time in the history of bedding, you can now find the right size for your bed thanks to the flexibility of being able to upgrade or downgrade knowingly. Why on earth stop at king size? Introducing our out of this world Comfort King and Emperor King Duvibuddy Inners, Covers, and Duvis. Finally, you can enjoy ample and adequate coverage as two adults sharing a bed.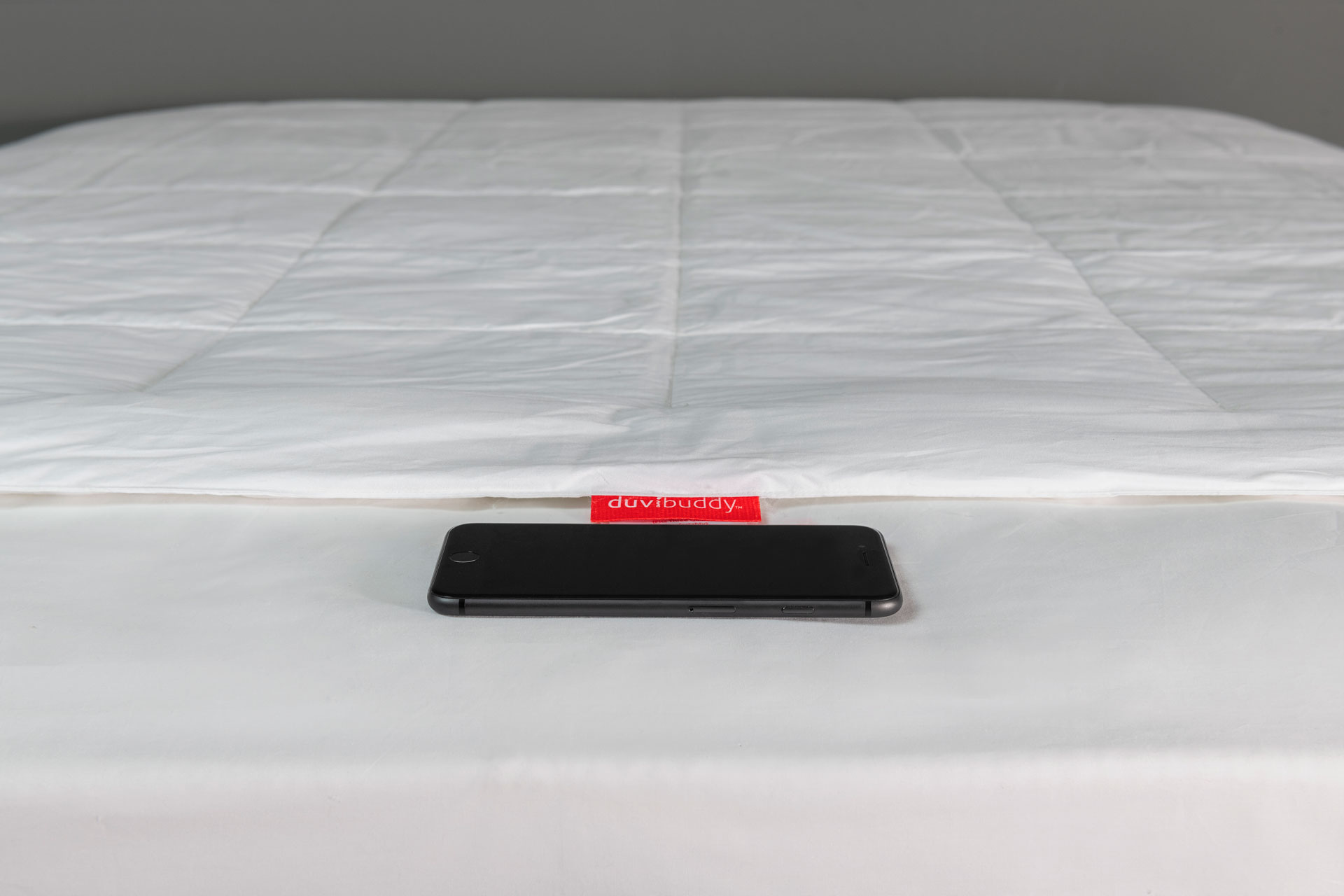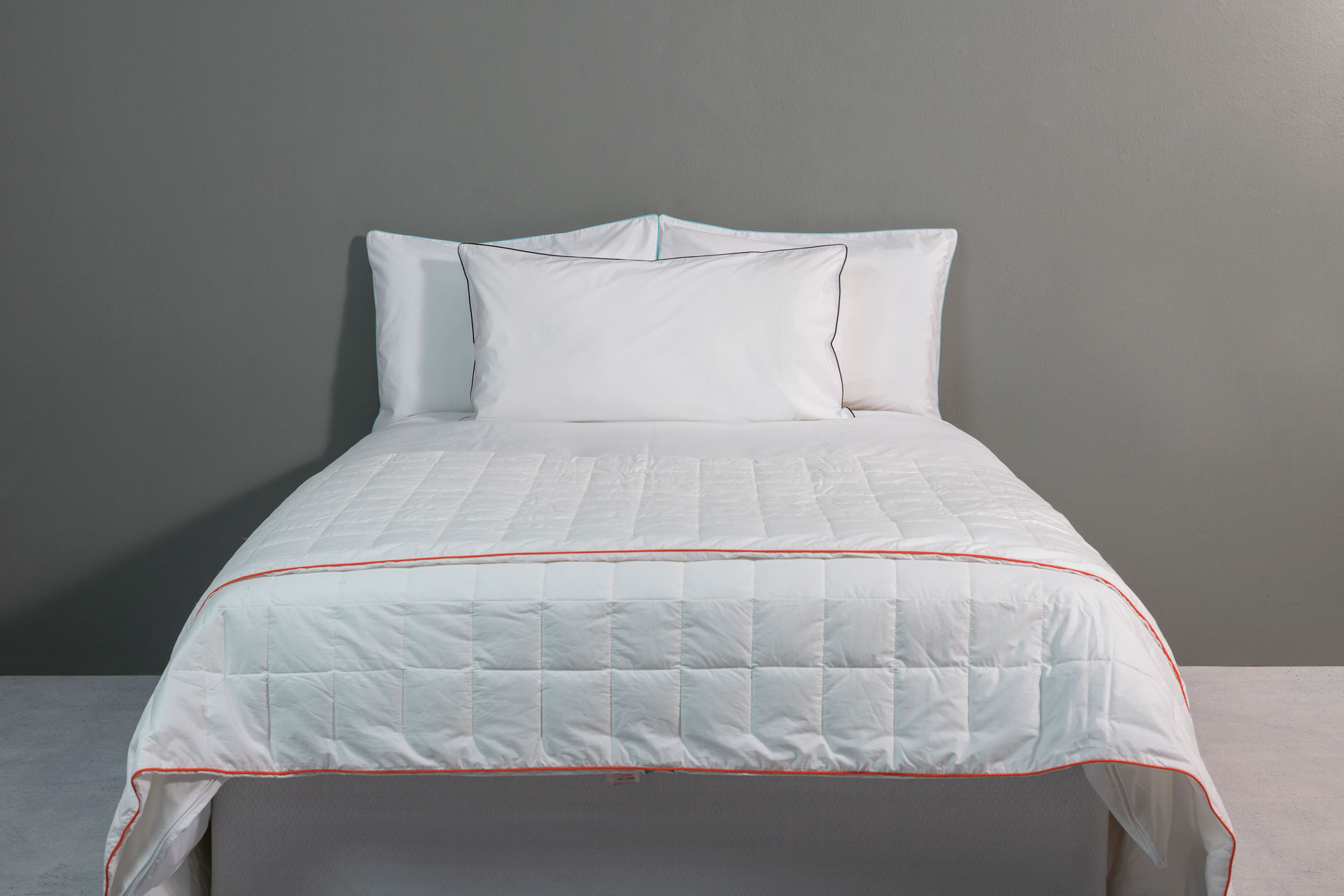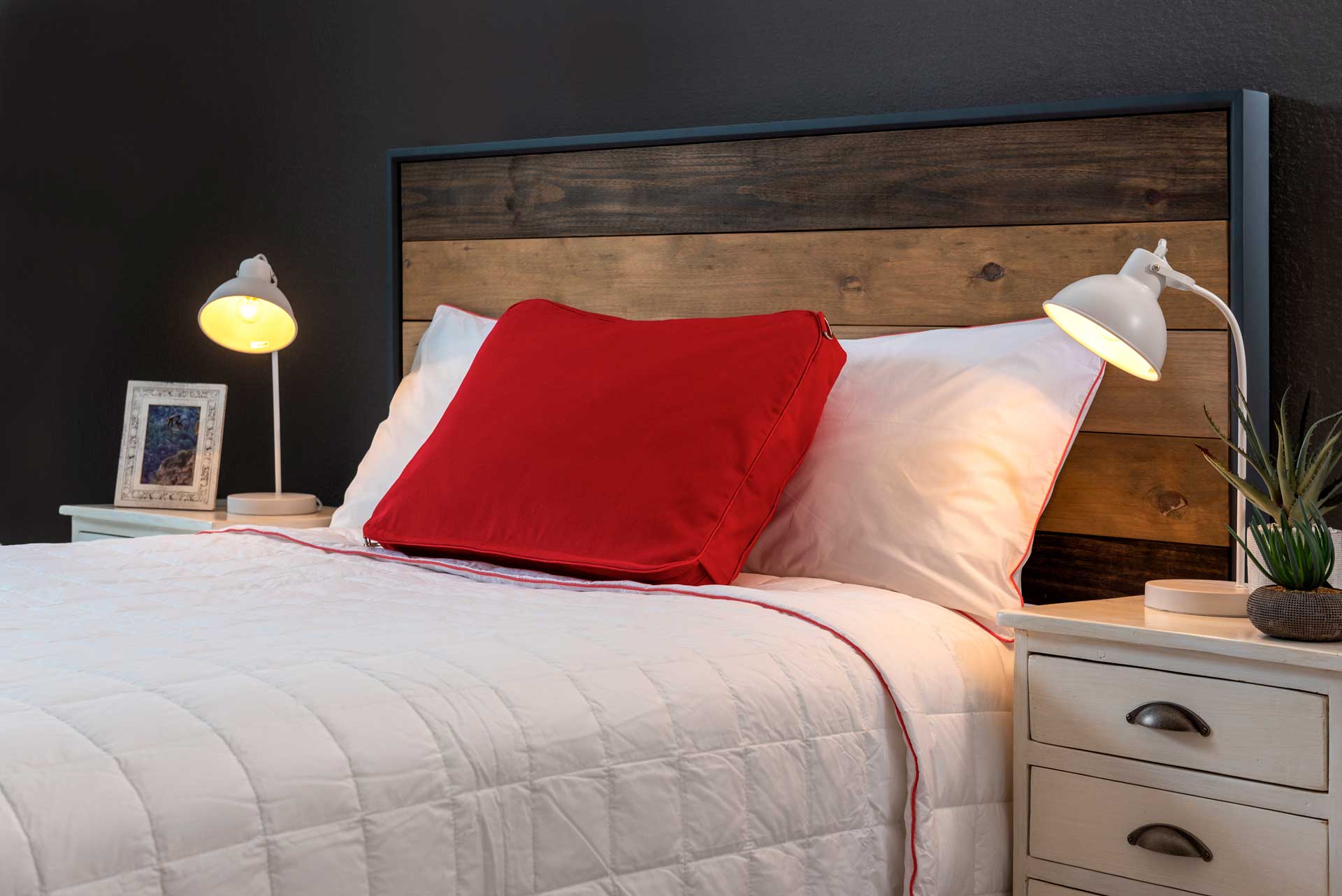 Your Duvibuddy Buddy-up is a pillow protector, space saver and décor element all in one, adding an attractive pop of colour to your bed.
It's also ideal for sleepovers, doubling as a good-looking overnight bag that holds your perfectly puffed Duvibuddy Pillow with your Zip ID, and your sleepwear.
Finally. Form meets function.
Your Duvibuddy Mattress Topper, inner, and pillow, all contain filling for ultra-luxury, with the added benefit that it is super hypoallergenic. It feels as soft as natural down but is high-quality combed virgin microfibre, and not recycled fibre.
After all, there's no telling where that's come from. Aaaaaah tissue!
Duvibuddy Ultra-Light Summer Inners are made from 30% high-quality virgin microfibre and 70% tensel. Tensel is a natural product derived from the Eucalyptus tree through sustainable production in an environmentally responsible process. It feels cool, dry and gentle to the touch, allows for thermal regulation, and is unfavourable for bacterial growth.
Best of all, no animals are involved in the manufacturing process of this material.